Industry-Academy-Research Cooperation
■Mechanism of Industry-Academy-Research cooperation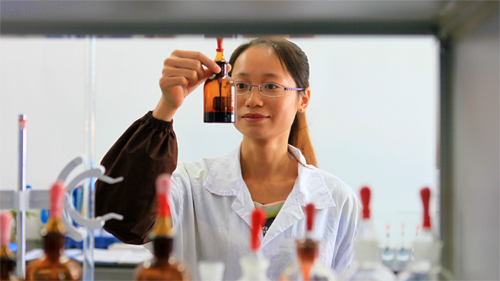 For a long time, Zijin adheres to the spirit of "mutual benefit, complementary advantages and development together", focuses on interaction of internal and external intellectual resources, follows the model of "Industry-Academy-Research cooperation", and carries out technical alliances, open funds, technical services, and research promotion actively. The main measures and system are as follow:
We mainly rely on the technology center to carry out technological innovation and research; rely on the production enterprises as the entity to carry out technological achievements transformation and industrialization, carry out research projects jointly with the well-known universities and research institutes, attempting to form a system of "Industry-Academy-Research cooperation" with Zijin's characteristic.
We actively participate in the formation of four technology strategic alliances at the national, industrial or local levels, we implement mechanism of Industry-Academy-Research cooperation, in order to make a breakthrough of key aspects of the mining industry development and promote technological progress. We continue to expand and deepen the domestic and foreign technological cooperation by introducing foreign technologies and independently innovating in the field of nonferrous mineral resources technology. We take advantages of the advanced equipment to provide the minerals development experiments and testing services for the market. We take advantages of the human resources to provide the services such as the technical information query, professional training on mining, processing and smelting, technical consulting, skill training, engineering application.
We introduce and train the high level talents by taking advantage of the enterprise academy (expert), post-doctoral work stations. With a flexible mechanism, we adopt a set of effective management measures to create favorable conditions for research. We also take advantage of the Zijin's financial support on research subjects to attract talent and introduce new thinking.
Based on the open funds of the State Key Laboratory, we set up new subjects and attract the researchers and visiting scholars at home and abroad, to carry out research work, to strengthen exchanges and open platform. We frequently invite domestic and foreign experts to conduct academic exchanges and trainings, in order to enhance our creative thinking, research & development ability and support the continuous innovation.
We establish a new mode of cooperation between university and enterprise in the college education in China. It is called "educate-to-order" mode. We have invested heavily in recent years to promote the new college-enterprise cooperation. For example, we invested RMB 200 million to set up Shanghang study base of Zijin Mining College, Fuzhou University. We vigorously carried out the "Double-Teacher-Training" mode, in which besides the teachers form colleges, the experienced engineers and managers from Zijin give lectures, laboratory and experimental sessions. We are happy to see that a number of mining engineers with the applicable skills have graduated from Zijin Mining College and are welcomed by the market.
■Achievements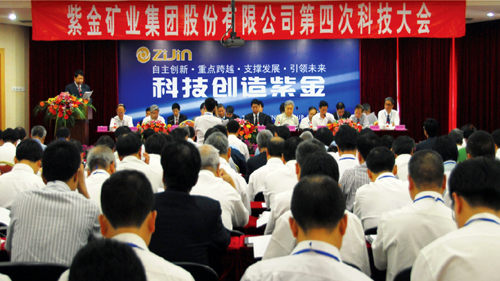 After years of exploration and research work, Zijin has built up an Industry-Academy-Research integrated platform. We established close and stable cooperation relationship with Beijing Research Institute of Mining and Metallurgy, Beijing Nonferrous Metal Research Institute, Chinese Academy of Sciences, Central South University, China University of Geosciences, Xiamen University, Fuzhou University and Kunming Polytechnic University, by hosting or participating in major research and academic exchanges; hired domestic and foreign well-known experts as technological adviser including 6 academicians, developed continuously a number of independent intellectual property rights, international leading technical achievements, cultivate a group of personnel with independent innovation capability of scientific and technological to enhance the innovative capability of the company and promote the scientific and technological research and development.
During the past five years, Zijin, jointly with well-known universities and research institutes, carried out more than 40 research projects, such as 'Exploration Technology and Demonstration of Eastern Iron, Copper , Lead and Zinc Ore Deep Important Field', 'Key Technology Industrial Application of Low-grade Copper Sulfide Biological Metallurgy', 'Technology of Low-grade Secondary Copper Sulfide Ores Leach Selectively and Acid-iron Balance Engineering', 'Key Technology of Complicated Low-grade Silver Polymetallic ores Metallurgy Effectively', 'Fundamental Research of extraction of Alum Ore by products' .etc. Zijin has signed many open fund projects with Process Institute and Microorganisms Institute of Chinese Academy of Science, Central South University, Beijing Nonferrous Metal Research Institute, hosted and participated in several influential conferences, including 19th IBS conference and International Mining Conference, invited group of high-level experts and scholars to conduct special research reports which greatly broadened thinking of technical personnel and achieved good results.