Zijinshan Gold & Copper Mine
Ownership: 100%
Mine Type: Open pit
Zijinshan Gold & Copper Mine is located in Shanghang County, covering an area of 30 km2, owning 1759 staff.
As one of the core mines of Zijin, it was discovered in the 1980s. The proven available gold resource reserves increased from 5.45 tonnes to more than 300 tonnes, with the annual output once reached 18 tonnes at its prime, becoming one of the largest porphyritic-type deposits in China. At present, the gold mine has entered the period of production reduction.
The copper reserves of Zijinshan Mine have increased from 1.46 million tonnes to more than 5 million tonnes. In the future, it can produce 80,000 tonnes to 100,000 tonnes of copper annually, becoming the second largest copper mine in China.
Zijinshan low-grade copper ore is treated by "microbial heap leaching - extraction - electrodeposition" hydrometallurgical production process to produce 99.99% cathode copper, which is included in the national "Tenth Five-Year Plan" scientific and technological projects. High-quality copper concentrate and sulfur concentrate are produced by flotation process of "step by step preferential floating copper and sulfur separation". In October 2011, Zijinshan Gold & Copper Mine was confirmed by the ministry of land and resources as the first batch of 40 demonstration bases for comprehensive utilization of mineral resources in China.
Since 1993, Zijinshan Gold and Copper Mine has produced 206.78 tonnes of gold by the end of 2018, with the highest annual treatment of 37721,800 tonnes of ore and the highest annual output of 18.06 tonsne of gold. Since 2004, copper mining has produced 404,100 tonnes of copper.
Zijinshan produced 104,201 ounces of gold (about 3.24 tonnes) and 76,631 tonnes of copper in 2018.
Map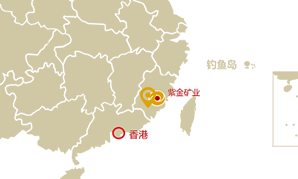 >> Open Map
Performance
104,201 ounces
Gold Produced
76,631 tonnes
Copper Produced