Zijinshan Gold & Copper Mine
Ownership: 100%
Mine Type: Open pit
Zijinshan Gold & Copper Mine is located in Shanghang County, covering an area of 30 km2, owning 1900 staff. As the core mine of Zijin, it was discovered in 1980s and became one of the largest porphyritic-type deposits in China. The deposit consists of two ore bodies: upper oxidized gold domain and lower copper domain in fresh rocks. The deposit type is described as porphyry related high-sulphidation epithermal Cu-Au deposit.
The high grade copper ores (+0.3%) goes to flotation plant while the low grade ores (0.13-0.3%) are processed through biological heap leaching with SXEW.
Zijinshan produced 236,950 ounces of gold (about 7.37 tonnes) and 56,276 tonnes of copper in 2016. The proven gold reserves of Zijinshan as of December 31, 2016, were 10.2 million ounces (about 318 tonnes), and the proven reserves of copper were 2.16 million tonnes, while the prospective resources were over 5 million tonnes.
Zijin had invested 2.5 billion yuan accumulatively in Zijinshan's soil and water conservation and ecological restoration by the end of 2016, covering 10.5 km2 green space.
Map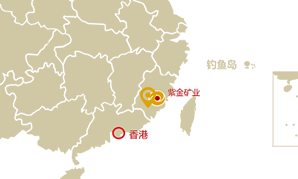 >> Open Map
Performance
236,950 ounces
Gold Produced
56,276 tonnes
Copper Produced