Liba Gold Mine
Ownership: 84.22%
Mine Type: Open Pit
Longnan Zijin Mining Co., Ltd., established in 2007, is located in Li County, Longnan City, Gansu Province. The registered capital is 242 million yuan, Zijin Mining holding 84.22%. By the end of 2018, it had about 300 employees.
The daily throughput of ore is 6,000 tonnes by flotation. It owns 7 mining leases over an area of 60.08 km2, with inferred reserve resources of 58.90 million tonnes and 111.82 tonnes of gold metal.
In 2018, the company processed 1.17 million tonnes of ore and produced 42,439 ounce (1.32 tonnes) of gold, achieved revenue of 259 million yuan and total profit of 92.54 million yuan. By the end of 2018, the total assets were 1.043 billion yuan. Since Zijin's investment in April 2008, longnan Zijin has accumulated 12.99 tonnes of gold production, operating income of 2.541 billion yuan, total profit of 614 million yuan, dividends of 280 million yuan.
Map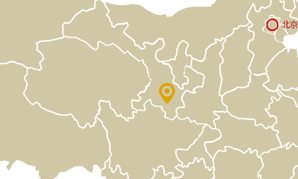 >> Open Map
Performance
42,439 ounces
Gold Produced