Shuiyindong Gold Mine
Ownership: 56%
Mine Type: Underground
Guizhou Zijin Mining Co., Ltd., established in 2001, is located in Zhenfeng County, Guizhou Province. The core asset of Guizhou Zijin is Shuiyindong gold mine (predominantly the Huijiabao gold mine). Shuiyindong gold mine project started in 2001.
Thermal atmospheric pressure chemical pre-oxidation processing method is adopted in mill operation. As of 2005, Phase I and II of this project had been completed, and the annual capacity now is 64,301~96,452 ounces. In order to accelerate the development of low-grade gold ores, Guizhou Zijin invested RMB 400 million in improving processing capacity to 450t/d. After the completion of this project, annual gold production is expected to be improved to 161,000~193,000 ounces.
Huijiabao gold mine produced 61,086 ounces in 2016.
Map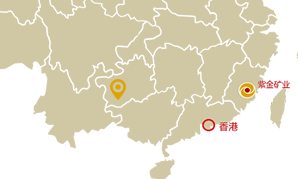 >> Open Map
Performance
61,086 ounces
Gold Produced