Shuiyindong Gold Mine
Ownership: 56%
Mine Type: Underground
Guizhou Zijin Mining Co., Ltd. was founded in December 2001, is located in Zhenfeng County, Guizhou Province, registered capital of 200 million yuan, Zijin Mining holding 56%. By the end of 2018, it had about 550 employees.
The core asset of Guizhou Zijin is Shuiyindong Gold Mine. The production scale is 330,000 tonnes/year. The main process flow is: mining → flotation → pressurized pre-oxidation → cyanidation leaching → carbon leaching adsorption → electrolysis desorption → purification.
In 2018, Guizhou Zijin processed 119,500 tons of ore and produced 48515 ounces (1.51 tonnes) of gold.. It has achieved revenue of 410 million yuan and paid taxes of 11.1583 million yuan. By the end of 2018, the total assets were 2.368 billion yuan. Since Zijin invested, Guizhou Zijin has paid dividends totaling 1.317 billion yuan, including 6.5 million yuan in 2018. By the end of 2018, the company's gold reserve was 189 tonnes.
In June 2003, Guizhou Zijin independently developed " Chemical Pre-oxidation Treatment at High Temperature and Normal Pressure" to extract gold, successfully solved the international problem of "Carlin-type" refractory gold mine development, and filled the gap in the mining technology of arsenic and carbon containing fine primary ore in China, and created a precedent for the successful development of refractory gold ore in Guizhou Province. On January 11, 2017, the project was officially put into production.
Map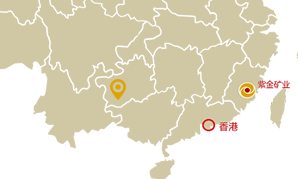 >> Open Map
Performance
48,515 ounces
Gold Produced