Ashele Copper Mine
Ownership: 51%
Mine Type: Underground
Xinjiang Ashele Copper Co. Ltd., established in 1999, is located in Habahe County, Aletay Prefecture, Xinjiang Uyghur Autonomous Region. Its registered capital is 250 million RMB, Zijin Mining holding 51%. By the end of 2018, the company had 764 employees.
At present, the company's 6,000 tonnes/day deep development project has officially reached production on September 1, 2016, and the current production scale is 6,000 tonnes/day. The main process flow: Three-stage crushing with single closed circuit (uderground coarse crushing)+ two stages of closed-circuit grinding + mixed flotation of copper and zinc + coarse concentrate re-grinding + separating flotation of copper and zinc.
By the end of 2018, Ashele Copper held 534,500 tonnes of copper and 284,400 tonnes of zinc. In 2018, the company produced 44,528 tonnes of copper and 9,001 tonnes of zinc, achieved revenue of 1.943 billion yuan, total profit of 945 million yuan and tax contribution of 457 million yuan.By the end of 2018, the total assets were 3.051 billion yuan; Since Zijin Mining invested in 2002, Ashele Copper has paid dividends totaling 8.05 billion yuan, including 950 million yuan in 2018. It plans to produce 42,100 tonnes of copper in 2019.

Map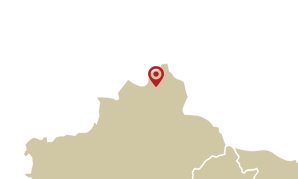 >> Open Map
Performance
44,528 tonnes
Copper Produced
9,001 tonnes
Zinc Produced