Ashele Copper Mine
Ownership: 51%
Mine Type: Underground
Xinjiang Ashele Copper Co. Ltd., established in 1999, is located in Habahe County, Aletay Prefecture, Xinjiang Uyghur Autonomous Region. Xinjiang Ashele copper mine was discovered by the geological team in 1984, and in 1992 it was confirmed as a large-scale nonferrous metal mine. The construction of the mine began in 2002 and trial production started in 2004. At the end of 2006, a daily ore processing capacity of 4,000 tonnes has achieved. In 2011, the company started an expand project, referring to improving the daily ore processing to 6000t/d, which completed in September 2016.
Ashele copper mine adopts sublevel open stoping with subsequent backfilling mining method and the processing method of three-stage closed circuit crushing, two-stage grinding and bulk flotation of copper and zinc. After regrinding the rougher concentrate, copper concentrate will be obtained through further flotation. And zinc concentrate will be obtained through Zinc & Sulfur separate flotation.
The company is building up a tailings project with design capacity of 3*300,000t/y, while the Phase I has started trial production in 2012 and a 100,000t/y copper smelter is still under construction. The design mine life is 29 years.
Ashele copper mine produced 40,149 tonnes of copper, 9,675 tonnes of zinc.
Map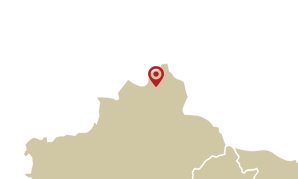 >> Open Map
Performance
40,149 tonnes
Copper Produced
9,675 tonnes
Zinc Produced