Duobaoshan Copper Mine
Ownership: 100%
Mine Type: Open Pit
Heilongjiang Duobaoshan Copper Co., Ltd., established in 2006, is located in Heihe City, Heilongjiang Province. Duobaoshan copper & molybdenum mine is a large scale low-grade porphyry copper deposit consisting of four mineralized zones. The proven copper reserves of X ore body of the No.3 mineralized zone accounts 75% of Duobaoshan copper mine. As of December 31st, 2016, the total resources and reserves of copper was 2.36 million tonnes at an average grade of 0.445%.
A total of RMB 2.66 billion was invested in Phase I in which the design ore processing capacity of the mill is 25,000 tonnes per day, and the annual copper production is 30,000 tonnes while molybdenum production is 630 tonnes. Phase I had been completed and started its trial production in May, 2012. Currently, the company is conducting Phase II expansion project. This project aims to improve the mining capacity to 70,000t/d, and the ore processing capacity to 80,000t/d.
Duobaoshan produced 24,417 tonnes of copper in 2016.
Map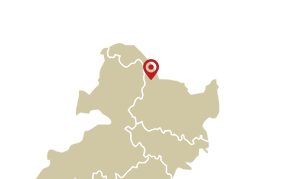 >> Open Map
Performance
24,417 tonnes
Copper produced