Porgera Gold Mine
Ownership: 47.5%
Mine Type: Open Pit, Underground
In 2015, Zijin acquired 50% interest of Barrick (Niugini) Limited, which owned 95% interest of Porgera Joint Venture. Porgera Joint Venture is located in Western Highlands in Enga, Papua New Guinea (PNG). It is 600 km away from the capital Port of Moresby. The core asset of this company is the Porgera gold mine.
Porgera gold mine is a world-class large scale epithermal gold deposit, till 2015 it had gold mineral resources of 9.7Moz at 4.4g/t. The design ore processing capacity of the mill is 6Mtpa.The mill adopts crushing, grinding, flotation, pressurizing oxidation and CIL method to process ores. The recovery rate is 86%~87%.
In 2016, Zijin's shares of gold production in Porgera was 240,295 ounces.
Map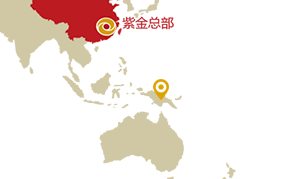 >> Open Map
Performance
240,295 ounces
Gold Produced