Kamoa Copper Mine
Ownership: 49.5%
In December 2015, Zijin acquired 49.5% interest of Kamoa Holding Limited, which is a joint venture between the Company and Ivanhoe Mines Ltd. of Canada. Kamoa Holding Limited holds 95% interest of Kamoa Copper SA. By the end of 2016, Kamoa Copper SA signed an Equity Transferring Agreement with DRC, transferring 15% interest to the government of DRC.
Kamoa copper mine project estimates to have over 24 million tonnes copper resources, mainly producing blister copper and sulfuric acid. The mine life is estimated to 45 years. The designed annual production and processing capacity in the first four years is 600 tonnes and 20 tonnes respectively, however, the production and processing capacity will both enlarge to 1200 tonnes and 40 tonnes from fifth year.
Phase I plan will be conducted in 2018, while Phase II plan will be implemented in 2022.
In October 2016, additional 9.4 million tonnes of high grade copper were discovered from Kakula deposit, which made the whole copper resources of Kamoa copper mine reach 33.4 million tonnes, equaling to one third of China's current copper resources. The average grade of Kamoa copper mine are ten times of that of Zijinshan gold and copper mine. And Kamoa copper mine becomes a top 10 world-class copper mine.
Kamoa copper mine project is close to our Kolwezi copper mine project, which could generate synergy effects among these two projects.
Zijin and Ivanhoe Mines Ltd. are jointly developing the Kamoa copper mine project's preparation work.
Map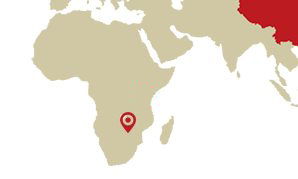 >> Open Map
Performance
33.4 million tonnes
Copper Resouces