Guyanese President Irfaan Ali Meets with Zijin's Delegation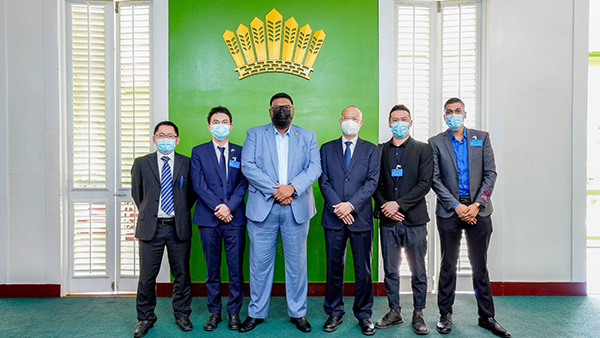 Zijin News - On July 14, Mohamed Irfaan Ali, President of Guyana, met with Que Chaoyang, Vice President of Zijin Mining, and his colleagues.
VP Que Chaoyang briefed President Ali on Zijin's main businesses, its business performance, and its status in the industry, as instructed by our Chairman Chen Jinghe and President Zou Laichang. He also informed the President of Zijin's medium and long-term plans and the latest developments in its ESG activities.
VP Que Chaoyang gave the President a detailed update about the production and operation of Zijin's Aurora Gold Mine. He said that based on the concept of common development, Zijin will balance mining with benefits to stakeholders by shaping Guyana's first underground mine into a green, low-carbon, and efficient mine.
President Ali said the Guyanese government welcomes investment from strong foreign companies. He affirmed Zijin Mining's investment and operations in the country, in particular, its speed in recommissioning the Aurora Gold Mine. He also appreciated the important contributions that AGM has made in creating local jobs, increasing tax revenue, and spurring social and economic development.
President Ali further noted that Guyana has introduced preferential tax policies and incentives for the extractive industries, and that operators will have the government's strong support.
Hu Hanming, Chinese Commercial Counselor to Guyana, met with the delegation on the same day. He praised Zijin Mining for its global presence and affirmed AGM's performance in production and operation.
Counselor Hu said that as a good example to other Chinese companies operating in Guyana, Zijin should make more contribution to the friendship between China and Guyana and play a bigger role in bilateral economic relations.