We take the initiative to carry out work on clean production and proactively develop green mines and green factories. As at the end of the reporting period, 16 enterprises passed the certification for environmental management system, while 26 subsidiaries carried out clean production review work. The Company has 9 green mines and 2 green factories at national level, and 3 mines and 3 factories at provincial level. During 2019, the Company aggregately invested RMB725 million for environmental and ecological protection projects, representing an increase of RMB62 million compared with the same period in 2018.
■Ecological rehabilitation
During the reporting period, the Group used 16.4739 million m2 of new land areas and restored 5.2848 million m2 of vegetation, planted 1.3418 million flowers and trees and spent RMB94.8105 million on restoration.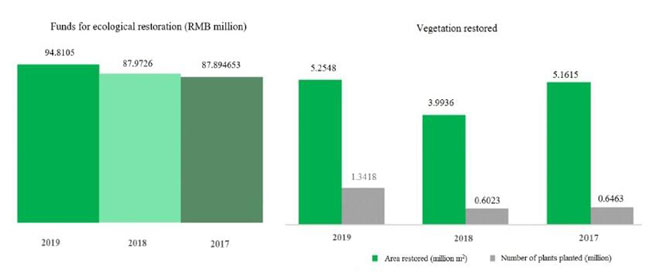 ■Biodiversity conservation
Base on the concept of "harmony between human and nature", we highly emphasis on environmental protection work around the enterprise, and minimise the impacts of our prospecting, exploration, production and operation on ecology and biotic environment. The Company strictly abides by the Wildlife Protection Law of the PRC, Land Wildlife Protection Implementation Regulations of the PRC and the wildlife protection laws of the countries where the projects are situated, forbids its staff to commit unregulated and unlawful behaviour relating to picking of wild plants, hunting, killing, purchasing or eating wild animals, attaches importance to the conservation of natural habitats of wildlife, and includes such in the Company's Staff Behaviour Regulations.
■Emergency management for environmental risks
The Company strictly follows the Notice on Issuance of Tentative Administrative Policy on Emergency Plan in Response to Environmental Incidents, National Environmental Emergency Response Plan and the requirements of the countries where the projects are located, continuously optimises the emergency management mechanism on environmental risks, and enhance facilities and rescue teams. The Company and all of its subsidiaries have established coordinated mechanism for emergency, and developed overall emergency plans and specific emergency plans, which are linked up with the Emergency Plans for Environmental Incidents of the Company and filed to environmental protection authorities of the respective regions. At the same time, rescue teams are formed and emergency drills and trainings are regularly held. Emergency response cards are formulated for each position to raise the emergency response capability for emergency environmental incidents of all staff.
■Emission management
We are dedicated to using different ways including strengthening technological upgrade, introducing advanced equipment, raising comprehensive utilisation rate of resources to control pollutant emission, meet emission standards of the places where the projects are situated and reduce the impacts on the environment. During the reporting period, the Company implemented 28 emission reduction projects and invested RMB327 million accumulatively throughout the year.
1. Wastewater emission reduction
During the reporting period, discharge of major water pollutants of the Company's subsidiaries was in compliance with the standards. As there was an increase in production capacity in the Company's new and substantial projects including Zijin Bor and Heilongjiang Zijin Copper, the water pollutant emission volume of COD, ammonia nitrogen and copper in total increased, while emission of zinc in total decreased for three consecutive years.
2. Exhaust gas emission reduction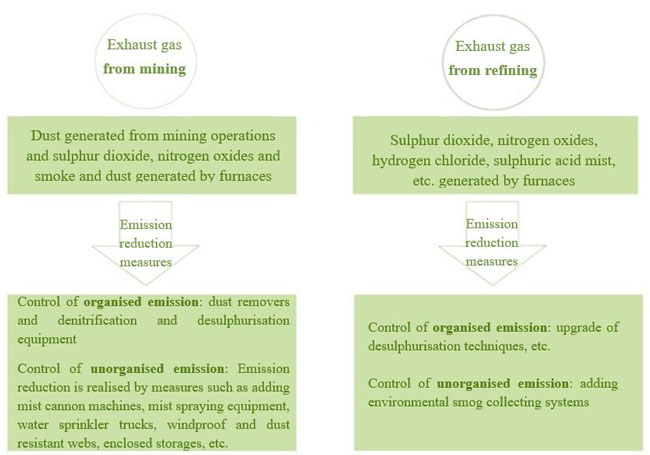 3.Treatment of mining waste

4.Tailings storage management
Based on full utilisation of resources, tailings will be conveyed to the tailing storages finally. Tailings storages are important facilities for storing and disposing tailings and slags. We thoroughly understand the risks. For reducing the environmental risks caused by tailings storages, we rigorously follow regulations of the relevant countries to approve and apply for approval the design, construction, assessment projects of the tailing yards, regularly organise inspections on their safety operation, carry out safety monitoring combining manual checking and online automatic monitoring systems. Dislocation, drying up, tailings dam water level, infiltration line and leakage of tailing storages are monitored to ensure the safety of the dams.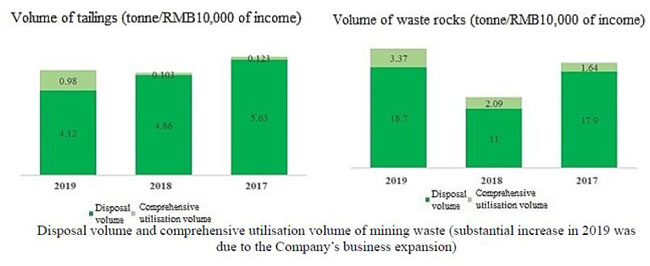 5.Disposal of refining waste
For the purpose of further reducing the hazardous waste volume generated from refining business and environmental risks, based on increasing comprehensive utilisation of waste, we implement projects of turning waste into resources and harmless treatment on waste.

6.Cyanide management
6 mining and 2 refining enterprises of the Company adopt gold cyanidation extraction technique and use cyanide for gold heap leaching. As the toxicity of cyanide will cause severe impacts on human body and wild animals, we rigorously follow "Zijin Mining Group Co., Ltd.* Hazardous Chemicals Safety Management Standards to work well on safety management on cyanide, manage the procurement, transportation, storage, collection and use of cyanide, formulated the Specific Emergency Plan for Emergent Environmental Incidents Caused by Sodium Cyanide and regularly carry out staff training and emergency drills. In 2019, the Company had no incident relating to leak of cyanide. For the cyanide slags generated, we strictly implement Technical specification for pollution control of cyanide leaching residue in gold industry (HJ943-2018) to secure the safe disposal of cyanide slags, carry out harmless treatment on cyanide slags, decreasing cyanide concentration and reduce the environmental impacts of cyanides as much as possible.
7.Water resources management
Currently, our average reuse rate of wastewater attains above 90%. In 2019, there was no event violating laws and regulations regarding use and collection of water; the newly drawn water volume was 40.2529 million tonnes and the water use intensity was 2.96 tonnes per RMB10,000 of operating income.
8.Response to climate change