DRC President Félix Tshisekedi Meets with Delegation of Zijin Mining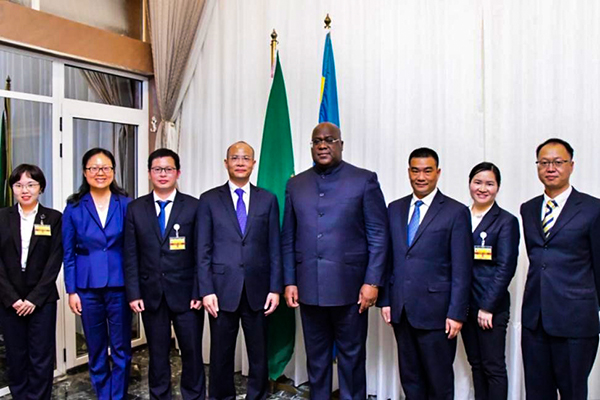 Zijin News - From May 5 to 8, President Félix Tshisekedi of the Democratic Republic of Congo, Prime Minister Sama Lukonde, and Zhu Jing, Chinese Ambassador to the DRC, met respectively with Que Chaoyang, Vice President of Zijin Mining and his colleagues in Kinshasa.
Entrusting by Chairman Chen Jinghe, VP Que Chaoyang briefed President Tshisekedi on Zijin's global operations, and how it works to fulfill its social responsibility. He reported to the President in detail about the construction, production, operation of Zijin's projects in the DRC and their future plans.
President Tshisekedi affirmed the achievements Zijin made in the country, and its significant contribution to local economic and social development. He said that Zijin Mining is a leading global mining company, one that is responsible, compliant with rules and regulations, and of integrity.
He noted that Zijin is one of the largest Chinese investors in the DRC. Zijin's projects in the Congo - the Kamoa-Kakula copper mine, the Kolwezi copper-cobalt mine and the Carrilu project - are doing well. They are all solid, competitive operations. The Kolwezi copper-cobalt mine, with its fast speed of construction and strong development results, is particularly impressive.
President Tshisekedi highly appreciates Zijin Mining's international competitiveness and future development plans, suggesting that the DRC needs Zijin Mining in its development process, and that the government will provide it with full support.
Ambassador Zhu Jing fully acknowledged the accomplishments Zijin made in Africa and its future plans in the continent. He said that China and Africa are deepening their traditional friendship, and the momentum for cooperation in trade and investment is strong.
He encouraged Zijin Mining to focus its attention on Belt and Road partner countries, and strengthen practical cooperation to mutual benefit with the DRC as international business activities in the country pick up steam.
VP Que Chaoyang thanked Congolese state leaders and Ambassador Zhu Jing for their affirmation and support. He said Zijin will operate in accordance with Chinese and Congolese laws and regulations, and strive to become an even more international business.
He further indicated that Zijin will continue to take strict measures on COVID containment and security protection, to ensure the health and safety of its employees and production safety. Meanwhile, Zijin will continue to make due contributions to socio-economic development, employment and people's lives.