President Aleksandar Vucic: Zijin Mining Brings Prosperity to Serbia's Economy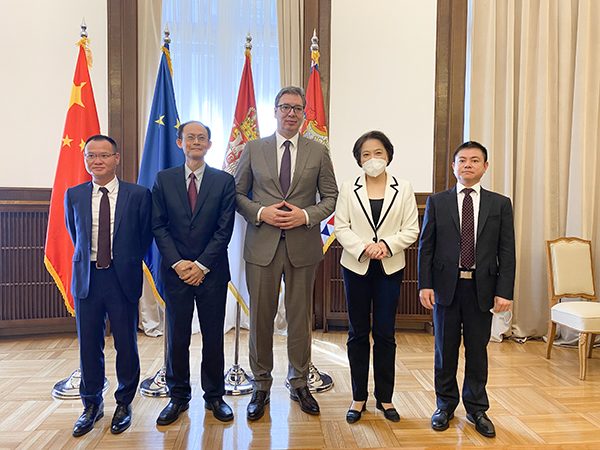 Zijin News - On June 2, Serbian President Aleksandar Vucic met with Shen Shaoyang, Vice President of Zijin Mining, and his colleagues in Belgrade.
President Vucic said statistics show that since Zijin Mining started to operate in Serbia, more young people are buying homes in Bor and its surrounding areas, a sign of prosperity brought by Zijin to economic recovery in the region.
President Vucic pays close attention to Zijin's investments and development in Serbia. He said that Zijin's investments in Serbia are very important to the country's social and economic development.
He further noted that Zijin, through its concrete actions and strong results, has proved its strength and outstanding capabilities in project operation and management.
Thanks to Zijin Mining, Serbia is becoming more and more important in the European mining industry. The country's copper output in 2022 is expected to account for 18% of Europe's total, a significant increase over 2020. It is predicted that by then, Serbia will become the second-largest copper producer in Europe.
Vice President Shen Shaoyang conveyed Chairman Chen Jinghe's cordial greetings and best wishes to President Vucic.
He said that the Serbian government led by President Vucic has provided Zijin Mining with valuable support. He added that Zijin and its operations in Serbia will continue to practice the concept of common development, and improve their performance in production and operation.
Vice President Shen made it clear that Zijin will also improve its performance in environmental protection, safety and occupational health, and create more opportunities to facilitate local employment and improve people's lives, in a bid to make more contributions to Serbia's socio-economic development.
In late 2018, Zijin Mining acquired a 63% interest in the Bor Copper Complex in Serbia, which employs more than 5,000 people. By applying advanced technology and managerial expertise, the joint venture not only created more jobs, but was also turned around within six months.
In 2020, Serbia Zijin Copper produced 52,000 tonnes of copper, generated RMB 4.8 billion in revenue and RMB 600 million in earnings. It is now working to upgrade and expand its four mines and a smelter.
Once these activities are complete, the company will produce 120,000 tonnes of mined copper and 180,000 tonnes of copper cathodes every year.
President Vucic, who witnessed the miracle created by Zijin in Serbia, said Zijin Mining has "revived" Serbia's century-old mines. "This is a great example of Chinese companies investing in Serbia. I want to express my respect and gratitude with the most beautiful words", commented the President.
Also present at the meeting were Serbia's Deputy Prime Minister and Minister of Mining and Energy, Minister of Environmental Protection, Minister of Economy, Chief of Staff of the President's Office, Mayor of Bor, the Chinese Ambassador to Serbia, and the Chinese Economic and Commercial Counsellor.