Colombian President Iván Duque Meets with Delegation of Zijin Mining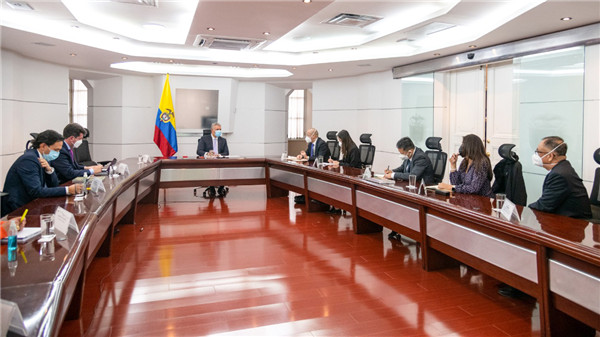 Zijin News - On June 30, Colombian President Iván Duque met with Que Chaoyang, Vice President of Zijin Mining and his colleagues. Colombia's Minister of National Defense, Diego Molano, Minister of Mines and Energy, Diego Mesa, and Deputy Minister of Mines and Energy, Sandra Sandoval attended the meeting.
Entrusted by our Chairman Chen Jinghe and President Zou Laichang, VP Que Chaoyang briefed the President on Zijin's global operations, the ESG measures it has been taking, as well as its investment, construction and operation of mining projects in Colombia. He thanked the Colombian Government for its continued support of Zijin, and expressed full confidence in our future development in the country.
President Iván Duque (center) with VP Que Chaoyang (on the President's left-hand side)
President Iván Duque appreciates Zijin's concepts of ecological mining and common development, and affirmed Zijin's success in mining investments in Colombia.
The Buriticá Gold Mine developed by Zijin is the first modern mine of its kind in Colombia, one that is green, environmentally friendly and beneficial to the wider society. The project is very important to Colombia's mining industry and its economy.
President Duque said that the project has witnessed rapid improvements in production and operation since Zijin took it over more than a year ago. It has also seen a steady increase in tax payments and the number of jobs created, a significant contribution to the economic take-off both Buriticá and western Antioquia.
The President stressed that the Colombian Government will fully support the development and expansion of the Buriticá Gold Mine, and that it will take solid steps to ensure that the mine operates in a safe and secure environment. He also expressed his hope for Zijin to make more investments in Colombia.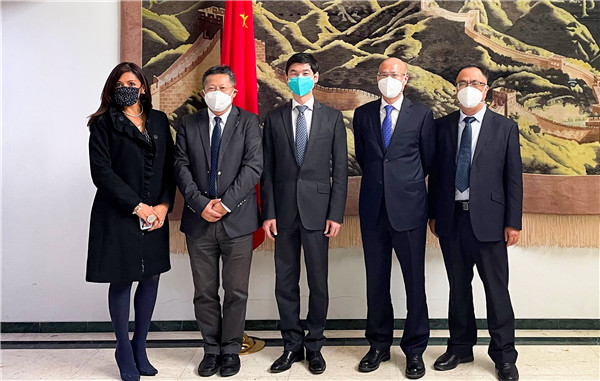 Ambassador Lan Hu (center) with VP Que Chaoyang of Zijin Mining
The Zijin delegation also paid a visit to the Chinese Embassy in Colombia, and met with Ambassador Lan Hu, who acknowledged Zijin's global business operations, and its pioneering concepts and operation models in mining development. The Ambassador also expressed great confidence in Zijin's development in Colombia in the years ahead.