Norton News: The Expat Experience in Kalorlie, Australia
2013/11/05 1887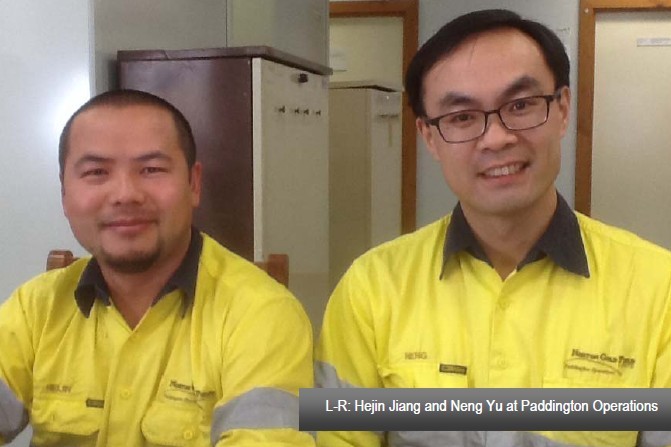 From Issue 2, Norton News

In the mid 19th century, New York Tribune editor Horace Greeley popularized the phrase, " West, young man" - encouraging people to seek out new frontiers and new experiences.
If Greeley were around today, he might well urge men and women to " abroad"- to make the most of a global economy no longer defined by geographic boundaries.
So, what's it like to move across the world to a country, culture and town very different from anywhere you have lived before ? We spoke with Jiang Hejin (Gary) and Neng Yu (Yugene) to find out . . .
Yugene (Geologist) and Hejin (Metallurgist) were selected for an overseas secondment by Zijin due to their technical expertise, professional ability and Englishlanguage skills. Hejin worked at the Zijinshan ld and copper mine (the largest open pit ld mine in China producing over 526,000oz of ld and 17,000 tonnes of copper in 2012) while Yugene hailed from Inter-Citic (a Canadian listed company with a focus on ld exploration and development in China, primarily the Dachang Project in central China).
Yugene and Hejin come from similar backgrounds, the sons of farmers, and left behind wives, children, parents and extended families (5 brothers and sisters between them) to travel to Australia. Yugene's wife and son have recently joined him in Kalorlie, while Hejin's wife has remained in China to work and take care of their 15 month old son. Hejin speaks to her regularly via the internet and travels home twice yearly.
Both readily accepted the posting looking forward to expanding their technical skills, improving their English and experiencing a different culture. Australia's od reputation in the mining industry was an added incentive. Eager to learn a little about Kalorlie before he arrived, Yugene looked up ogle earth and was surprised to see so many pits and so few buildings! Whereas Hejin loves the quietness of the country, Yugene says he misses the noise of a big city sometimes.
In the 9 months they have been with Norton they have not been disappointed saying it has been a great learning experience. They have enjoyed the frank and open management style - leading by example, encouraging participation and teamwork, and being shown or having the correct work procedures fully explained. The excellent safety culture is something they will carry forward and reinforce wherever they . Both are excited for the future and keen to further utilise their newly acquired skills.
When asked about the difficulties they have faced and what they would tell others who may follow in their footsteps, both agreed language and culture are the biggest barriers to a successful transition. Hejin's tips to help develop od language skills include watching TV and movies, attending English church services and making local friends. Both also felt it was important to get out and see some of the area in which they are living and working. Kevin Paki (Metallurgical Superintendent) has taken Hejin under his wing with fishing trips, an introduction to rugby and out bush to see the wildflowers. As a company Norton will look at reinforcing our Zero Harm culture with any prospective overseas employees and providing a pre-move induction and information pack.
Hejin and Yugene were keen to express their gratitude and appreciation to their workmates who have been friendly and willing to help both professionally and personally.