LongXing has been included in the list of the "Honor book for All Russian Companies"
2020/08/04 1497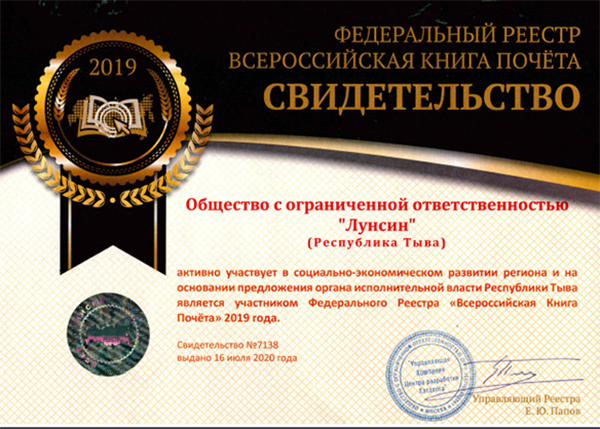 Zijn News,Longxing (The company), a subsidiary of Zijin Mining Group Co, Ltd, has been included in the list of the "Honor book for All Russian Companies" (The book) by the government of Russian Federation recently. To be listed in "The book" is the highest honor for the enterprise under the jurisdiction of the Russian Federation. It also represents that the ruling authorities highly recognize the commercial status and public recognition of the company.
The company was established in year 2005. It owns the Kyzyl-Tash Turk zinc-lead-copper polymetallic mine which holds 0.89 million tonnes of zinc with an average grade of 9.67%. As the largest mining and processing project in Siberia, the designed processing capacity of Kyzyl-Tash Turk mine is 120Mt per annual. It is also one of a best and earliest example of China-Russia corporation in mining industry. By the end of year 2019, The company has produced 400 thousand tonnes of zinc, 12 thousand tonnes of lead and made a total tax payment of 44,250,000 USD to the authorities. The company adopts the local hiring policy and employs 674 Russian workers. Besides direct hiring, the project also benefits local communities by providing more than 1,000 job opportunities for transportation and public service.
From the beginning of year 2020, The company has implemented the measures to prevent and control Covid-19 to ensure continuous production; therefore the production and operation has continued as scheduled. The company has donated 100 thousands face masks and 1,000 protective suits, valuing 70 thousand USD, to local communities.