Kamoa Copper Holds Signing Ceremony for the Basic Engineering Contract of the 500 Ktpa Copper Smelter
2021/11/18 3631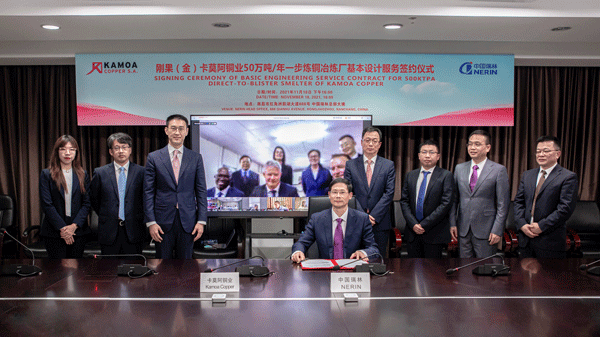 Zijin News - On November 18, Kamoa Copper S.A. and China Nerin Engineering Co., Ltd., held a signing ceremony, awarding the basic engineering contract of Kamoa's 500 Ktpa smelter to China Nerin.
The smelter has been sized to process the majority of the copper concentrate produced by Kamoa-Kakula's Phase 1, Phase 2, and Phase 3 concentrators. It is projected to be one of the largest, single-line blister-copper flash smelters in the world, and the largest copper smelter in Africa.
The contract was signed by Mark Farren, CEO of Kamoa Copper, and Wu Runhua, General Manager of China Nerin at a virtual ceremony. Chen Jinghe, Chairman of Zijin Mining, Robert Friedland and Sun Yufeng (Miles), Co-chairs of Ivanhoe Mines, and Zhang Xiaobo, Chairman of China Nerin witnessed the ceremony via video link.
In his speech, Chen Jinghe said that major successes have been achieved in the exploration, development, and production of Kamoa Copper after Zijin Mining became involved in the project.
He noted that the comprehensive development of the Kamoa Copper Mine is of great significance to the global copper industry. It will also improve the global standing of the Congolese copper sector, drive economic and social development, and help improve living standards in the country.
Chairman Chen further stated that Zijin Mining looks forward to the engineering of the smelter to high standards, and according to low-carbon principles. Zijin also hopes Kamoa Copper could maintain close communication with the shareholders, the government, and the host communities, so as to obtain all approvals necessary for the project, commence production at an early date, and contribute to the further development of the Congolese copper industry.
The Phase-1 3.8 Mtpa concentrator plant of the Kamoa-Kakula project was put into operation in May 2021, and began commercial production in July, with its total copper output to date reaching 77,500 tonnes. The construction of its Phase-2 3.8 Mtpa concentrator is advancing smoothly and is expected to be commissioned in Q2, 2022. Following the plant's projected commissioning, Kamoa-Kakula will have a production capacity of 760 tonnes per annum, leading to an annual output of 400,000 tonnes of contained copper.
During its first quarter of commercial production from July to September, Phase-1 of the project achieved a revenue of US$340 million and an operating profit of US$200 million, and maintained a strong cash flow.
Thanks to its abundant mineral resources and its growing economic returns, Kamoa Copper is expected to finance the construction of the smelter entirely with its own funds.
The planned Kamoa-Kakula smelter is designed to use direct-to-blister smelting, a mature technology developed by Metso Outotec. As one of the safest, most environmentally friendly, and most reliable smelting processes, it will help the smelter to run well above the International Finance Corporation's emissions standards.
The smelter will be powered by renewable hydropower from the Inga station, a practice that is in line with Kamoa Copper's principle of green, low-carbon development.
With an on-site smelter, Kamoa Copper will see its industrial chain further extended, and logistics costs reduced; this will also generate another revenue stream, and create more job opportunities. The implementation of the smelter project is in full compliance with the policies and requirements of the DRC government, and will enable Kamoa Copper to better fulfill its corporate social responsibility.