Zijin Mining, Fuzhou University, and SJ Environmental Protection Join Forces to Build the Platform for Major Ammonia & Hydrogen Innovations
2021/12/22 3589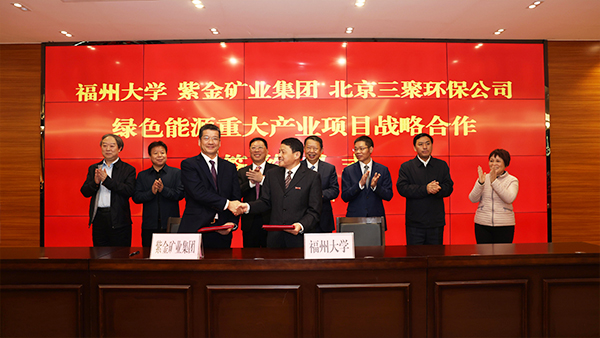 Zijin News - On December 10, Zijin Mining, Fuzhou University, and SJ Environmental Protection held a signing ceremony for their major cooperative project which has a strategic significance in the green energy industry.
A high-tech joint venture shall be established as the result of the partnership, with the goal to unblock bottlenecks in the development of hydrogen energy.
Working together, Zijin Mining, Fuzhou University, and SJ Environmental Protection would drive the integration of the industry, research institutes, R&D, and applications by building the first platform for major innovations in the ammonia-hydrogen energy industry in China as well as a national engineering research center for industrial ammonia catalysis.
Under this initiative, a leading ammonia-hydrogen innovation team would be built and contribute to the development of a trillion-yuan industrial chain that integrates green ammonia, hydrogen energy, and renewable energy.
The collaboration will leverage the expertise of the National Engineering Research Center of Chemical Fertilizer Catalyst of Fuzhou University to achieve major technological breakthroughs in the development of green ammonia-hydrogen energy.
Founded by Prof. Wei Kemei, an academician of the Chinese Academy of Engineering, the center was the only national innovative platform that has both basic research functions and industrial bases in the field of industrial ammonia catalysis.
Since its establishment, the center has been committed to the research of the efficient synthesis and high-value utilization of ammonia.
The research team, together with SJ Environmental Protection, have developed the first set of safe and efficient technologies for ammonia synthesis with low energy consumption and applied it to an ammonia synthesis plant with an annual production capacity of 200,000 tons.
In addition, they have invented a new low-temperature catalyst - a solution to the technological challenge in turning ammonia into hydrogen - laying a solid foundation for the development of the ammonia-hydrogen energy industry.