Zijin Mining Kicks off 3Q Lithium Brine Project
2022/02/16 3076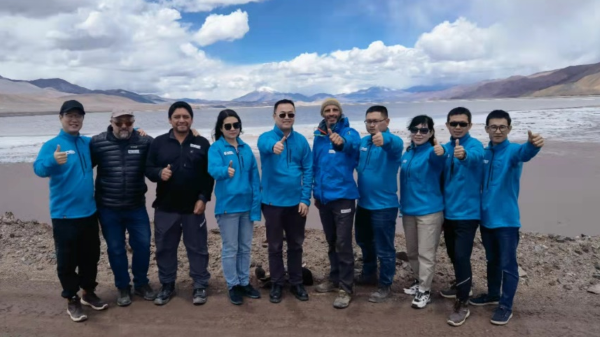 Zijin News On February 1, members of Zijin's project team met at the site of the Tres Quebradas lithium brine project in Argentina, marking the commencement of the construction.
This team was set up with members from Zijin's projects in different countries such as China, Columbia, Australia, Serbia, and the DRC right after it offered to acquire the world-class lithium project for RMB 5 billion on October 8, 2021. The first group of the project team arrived in Argentina for field investigation on January 9, 2022, and the deal was closed on the 26th of the same month. Two days later, all members of the management met in Argentina.
Work started immediately after the project team was established: Team members of various disciplines carried out research, investigation, and demonstration along with scientific and engineering institutions, subject-matter experts, well-known companies, suppliers, and service providers from China and other countries.
The first group of team members and the management got down to work upon their arrival in Argentina. Head of the project and persons in charge of construction, process, equipment, finance, and human resources performed their duties simultaneously, visited laboratories, plant, and the office of community relations, and went to the site. They carried out on-site investigations, and discussed, held meetings, and arranged work together with relevant stakeholders efficiently under a tight schedule.