Zijin Mining's Tres Quebradas Lithium Brine Project Starts Construction
2022/03/29 4065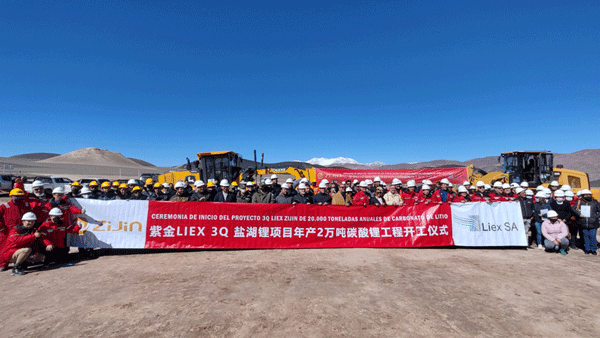 Zijin News - On March 20, a ceremony was held at the heartland of the Catamarca Andes, which is 4100 meters above sea level, to mark the start of construction of Zijin Mining's 3Q lithium brine project, a project with an annual production of 20,000 tonnes of lithium carbonate.
Raúl Jalil, Governor of Catamarca Province, attended the ceremony and delivered a speech. He pointed out that Zijin Mining's investment has brought new development opportunities for the province. The project will boost the development of various local industries, help bring local products to broader markets, and will create ample job opportunities for residents of the province. He hopes that they would gain access to more professional training, and local students could have the opportunity to visit and study in China.
The female leader of Fiambalá expressed her best wishes for the project on behalf of her community and fellow community members. She said that the 3Q project, a project that local people have been waiting for six years, becomes a reality at this moment, and from now on, they will share the natural wealth of the land of Fiambalá with Zijin Mining.
VP Shen Shaoyang of Zijin Mining expressed his sincere appreciation on behalf of Zijin Mining for the support given by people from all walks of life to the company's investment and development in Argentina. As Zijin's first lithium project, the 3Q project bears great significance to the company's renewable energy business. The project will place high emphasis on safety and environmental protection, fast-track its construction at "Zijin Speed", and pursue harmony and common development with local communities, so as to deliver long-term benefits to the local economy, society, and people.
Chinese Ambassador to Argentina Zou Xiaoli sent a congratulatory letter for the commencement of the project. He noted that the 3Q project will bolster Argentina's industrialization process, boost local employment, and make positive contributions to the cooperation on green development and renewable energy between China and Argentina.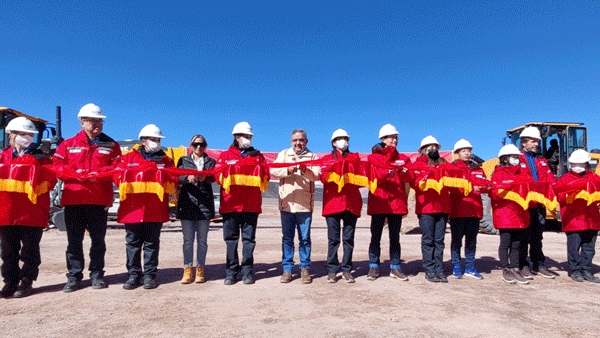 Governor Raúl Jalil and VP Shen Shaoyang cut the ribbon together to inaugurate the project.
On March 21, the Minister of Productive Development and the National Mining Secretary of Argentina congratulated on the commencement of construction again in a meeting with VP Shen Shaoyang and the management of the 3Q project in Buenos Aires.