Zijin Mining: H1 Net Attributable Profit Tops U$1.9 bn, up 90% year-on-year
2022/08/16 7256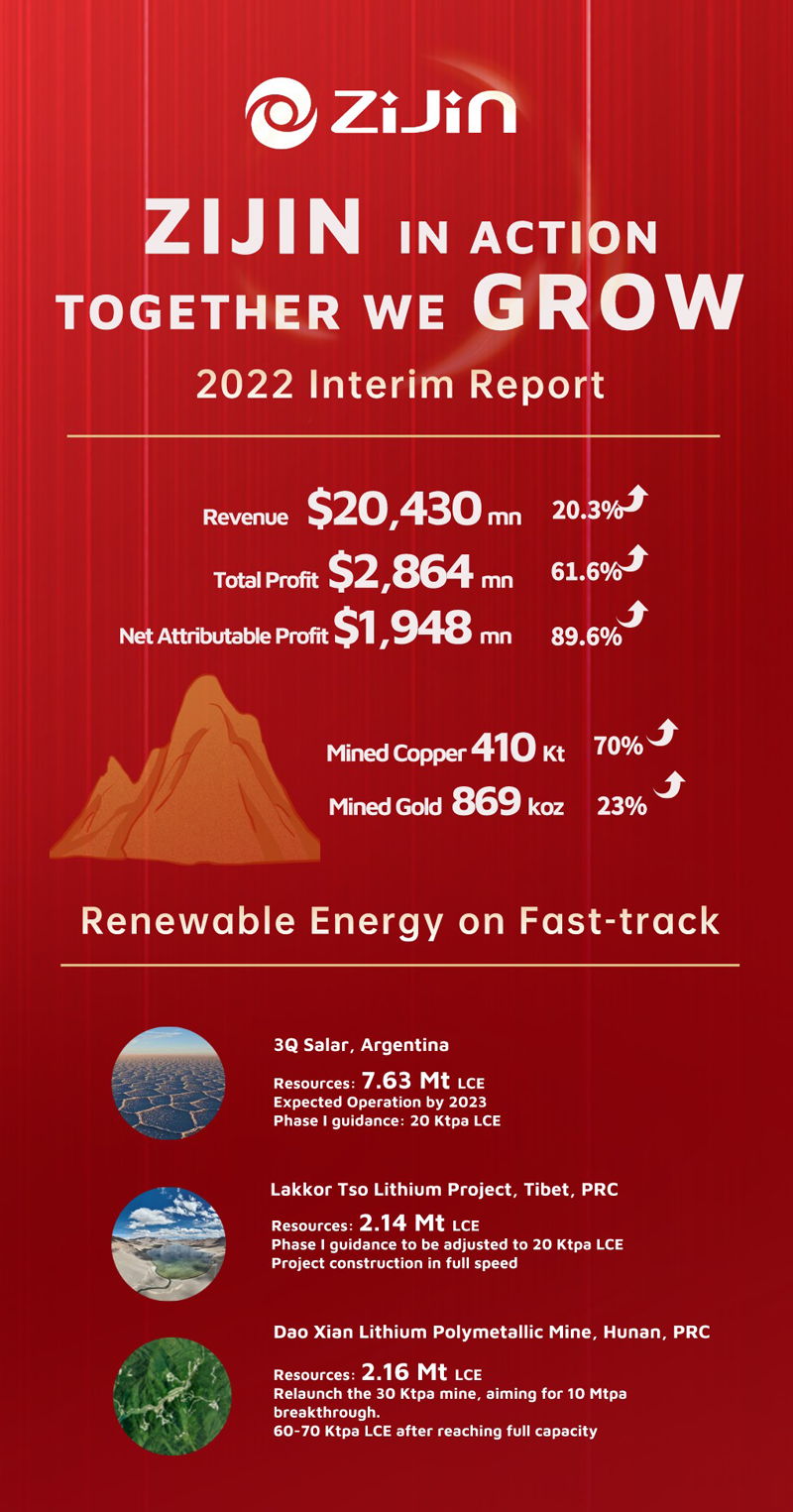 Zijin News - Zijin mining hit new records in main performance indicators, according to its 2022 Interim Report released on the evening of August 12. In the first half of 2022, Zijin's revenue totaled USD 20,430 million, its profit before tax stood at USD 2,864 million and net attributable profit reached USD1,948 million, up 20.3%, 61.6% and 89.6% respectively year-on-year. Overall, it has achieved significant growth in cash flow and profitability.
As key projects ramp up production, Zijin has seen explosive growth in its copper and gold businesses. In the first half of 2022, it produced 410 Kt of mined copper, up 70.5% year-on-year; 869 koz of mined gold, up 22.8%; 222 Kt of mined zinc and lead; and 5,903 koz of mined silver.
The gross margin of its mineral products reached 60.01%, and the figure for mined copper was 65.8% and for mined gold 51%.
With several of its world-class gold and copper mines put into operation and running at nameplate capacity, Zijin is turning its resources into social and economic benefits more quickly.
· Kamoa-Kakula Copper Mine in the DRC: Phase II was put into production ahead of schedule; over 143 Kt of mined copper were produced in the first half of 2022;
· Julong Copper Mine in Tibet: Phase I reached full production capacity; preparations for Phase II have accelerated; 44 Kt of mined copper were produced in the first half of 2022;
· Čukaru Peki Copper-Gold Mine in Serbia: the most profitable project of Zijin, with 53 Kt of mined copper and 82 koz of mined gold produced in the first half of 2022;
· Serbia Zijin Copper: mining and processing facilities at the Veliki Krivelj mine, and the technical upgrade of the company's smelter will soon be completed; mining using the caving method at the Jama mine is progressing as scheduled; in the first half of 2022, the entity produced 45 Kt of mined copper and 40 koz of mined gold;
· Zijin's gold projects - Continental Gold in Columbia, JV Zeravshan in Tajikistan, Norton Gold Fields in Australia, Shanxi Zijin and Longnan Zijin in China - also achieved strong growth.
There are also highlights in its renewable energy and advanced materials businesses.
Since 2021, Zijin began to invest in lithium projects and has acquired 3 projects to date, shaping up a lithium business pattern of "two lakes and one mine" – the 3Q Salar in Argentina, the Lakkor Tso Salar in Tibet and the Lithium Polymetallic mine in Daoxian county, Hunan, China.
Its total LCE resources exceed 10 million tonnes, putting it among the top 10 global lithium companies by measured resources. In the long run, Zijin is expected to produce over 150 Kt of LCE per annum, which will provide a strong basis for it to become a major lithium producer in the world.
Zijin's "Five-Pronged" Mining Engineering Model, which is being applied in its lithium projects, will help fast-track these projects and make them key drivers of the company's leapfrog growth.
· 3Q Lithium project in Argentina: 7.63 million tonnes of LCE resources; Phase I guidance is set at 20 Ktpa LCE, and initial research has been carried out on the production of 40-60 Ktpa LCE; stage 1 brine evaporation began in June this year.
· Lakkor Tso Lithium project in Tibet: 2.14 million tonnes LCE resources; Phase I guidance is to be adjusted to 20 Ktpa LCE and Phase II capacity to is be increased to 50 Ktpa LCE.
· Lithium Polymetallic Mine in Daoxian county, Hunan, China: 2.16 million tonnes of LCE resources; according to initial plans, the mine will be built with a capacity of 10 Mtpa, and is expected to produce 60 to 70 Ktpa of LCE after reaching its full capacity; the existing 300 Ktpa mine will be recommissioned first.
Zijin's advanced materials business is also taking shape. The commercialization of ammonia-to-hydrogen conversion technology is picking up pace. Other projects, such as those related to lithium iron phosphate, electro-deposited copper foil, high-performance copper alloys, and the lithium project to be jointly developed with EVE Energy and Ruifu Lithium, are also progressing well.
Zijin has been working on its ESG performance and consolidating its foundation for sustainable development. Its use of clean energy has increased, with total installed capacity of wind, solar, hydro power reaching 123.2 MW.
It also obtained a 25.04% voting shares in Fujian Longking and is able to exercise control through corporate governance arrangements. Longking's ongoing transformation, which is driven by environmental protection and renewable energy, will help build synergy among different industries.
In the second half of the year, Zijin will seize market opportunities and strive to deliver on its 2022 performance targets, based on the overarching principle of "deepening reform, leapfrog growth and sustainable development". It will seek to unlock the potential of existing projects, speed up the construction of key projects and ensure they are commissioned and generate profits as early as possible.
Translator: Shang Yutong Reviser: Li Yuanxing Editor-in-Chief: Wang Jie