Zijin Mining Releases 2022 Annual Report
2023/03/30 4858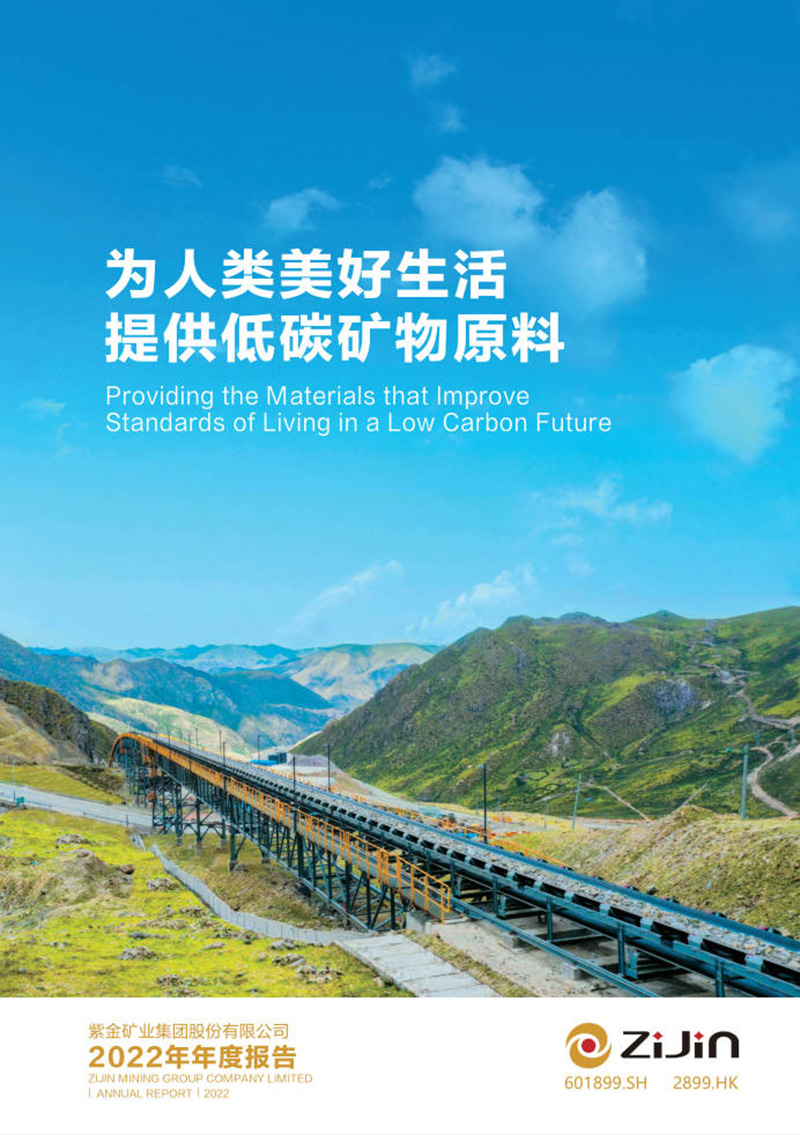 Zijin News - On March 24, Zijin Mining released its 2022 annual report. In 2022, it hit new records in performance, achieving an operating income of RMB 270.3 billion, a profit before tax of RMB 30 billion and a net attributable profit of RMB 20 billion, a growth of more than 20% by all three indicators.

Contributing 880,000 tonnes of copper to the global low-carbon transition
As the global green, low-carbon transition continues, copper is an irreplaceable material for the development of renewable resources. Given its properties, it can help improve energy efficiency, and reduce heat loss and greenhouse gas emissions in energy transmission.
In 2022, due to geopolitics, the pandemic, droughts and community conflicts, most of the major copper producers saw their production decline, and the global visible copper stocks remained low, posing pressure to copper supply for the world's green industries.
Since copper resources are not renewable and mine construction takes time, it's difficult for global copper production to grow rapidly. Most of the world's top 10 copper mines newly discovered in the century are still in the feasibility study stage. Among them, however, 3 mines owned or part-owned by Zijin Mining - the Čukaru Peki copper-gold mine, the Kamoa-Kakula copper mine and the Julong copper mine -have been built and put into operation. They are currently advancing their phase 2 and 3 expansion projects.
In 2022, Zijin Mining made "Providing materials the world needs for a low carbon future" as its mission and incorporated it into its articles of association. Zijin has been increasing investments in copper (for energy transmission) and lithium (for energy storage), to promote the company's green transformation.
At the same time, Zijin's output of mined gold, mined zinc and other main products grew, producing about 56 tonnes of mined gold, an increase of 19%, and about 440,000 tonnes of mined zinc and lead, up 2%.
In addition, since 2022, Zijin Mining has been actively fostering its lithium business as a new growth pillar. In just one year, the company acquired three lithium projects: the 3Q Salar in Argentina, the Lakkor Tso Salar in Tibet, and the Xiang Yuan lithium mine in Hunan Province. Zijin currently has more than 10 million tonnes of LCE resources, and is expected to have a production capacity of 120,000 tonnes of LCE by 2025.
Racing to become a leading global mining company
The year 2022 was a big year for Zijin Mining in terms of M&A. The company completed 10 acquisitions within the year, spending a total of RMB 31.9 billion, more than any other company in the industry.
This shows that Zijin has accelerated its steps to become a leading global mining company.
In 2021, Zijin unveiled its Five-Year (2+3) Plan and 2030 Development Goals, aiming to become a leading global metals and mining company through a three-phased approach in ten years.
Based on its good growth, Zijin released in January 2023 its revised plan for the following 3 years and through to 2030, which includes targets to produce 950 thousand tonnes of mined copper in 2023 and 1.17 million tonnes in 2030; 72 tonnes of mined gold in 2023 and 90 tonnes in 2025; 3,000 tonnes of LCE in 2023 and 120,000 tonnes in 2025; 450, 000 tonnes of mined zinc and lead in 2023 and 480, 000 tonnes in 2025.
To achieve higher growth targets, there must be new "growth clusters".
Lithium and other new minerals are one such driver. In 2022, in light of the Fed's continued interest rate hikes and the under-valuation of gold miners, Zijin Mining also acquired major gold assets, such as the Rosebel gold mine, the largest, producing open-pit gold mine in South America, a 30% interest in the Haiyu gold mine, China's largest pure gold mine, and a 20% interest in Zhaojin Mining.
Green growth for carbon peaking and carbon neutrality
Zijin Mining has been known to the public for its strong performance in the past. In recent years, the company has become more committed to green growth, taking concrete steps to drive the low-carbon transition.
To build a global image of green, eco-friendly mining, Zijin Mining implemented life-cycle management of the environment of mine sites in 2022, building green mines to high international standards. Throughout the year, the company invested RMB 1.47 billion in ecological and environmental protection, and upgraded green mines to garden-like mine sites. While Zijin's revenue and assets continue to grow, the company's energy consumption per unit of GDP dropped to 264MWH/million RMB, down 20% year-on-year.
In 2022, solar power generation and other sources of green energy enabled Zijin Mining to reduce its carbon dioxide emissions by about 210,000 tonnes, which is equivalent to planting 11.67 million trees. 1.21 million flowers and trees were planted throughout the year; and 12.75 million square meters of land area were restored, in a bid to restore as much as possible. These efforts led to a significant reduction in carbon emissions.
On this basis, in January 2023, Zijin Mining released its Climate Change Action Plan, making the goal of achieving carbon peaking and carbon neutrality an important part of its ten-year development strategy and pledging to achieve carbon peaking by 2029 and carbon neutrality by 2050. These targets are 1 year and 10 years earlier than China's national targets and are aimed at contributing to the goal of limiting global temperature rise to 2°C.
The Action Plan was prepared in line with the Task Force on Climate-related Financial Disclosures (TCFD) recommendations, the first of its kind among Chinese non-ferrous metals miners. And targets set in the plan are benchmarked against leading global mining companies.
Zijin Mining's Chairman Chen Jinghe expressed on multiple occasions that as a multinational corporation committed to becoming a green, leading mining company, Zijin Mining must benchmark itself against the world's top mining companies and consider efforts to help achieve carbon peaking and carbon neutrality as its due obligations.
Zijin's business is still expanding. As such, it is difficult to balance the need to expand production at a high speed and efforts to reduce emissions. But the commitment highlights Zijin's image of being a responsible corporate citizen and its determination to become a world-leading green metals miner.
In view of a future full of uncertainties, Chairman Chen Jinghe said that the 30-year expansion of Zijin Mining would not have been possible without adherence to the value of development for all. The company has integrated into the development of its host regions in China and abroad, and considers the environment, labor, human rights and communities in everything it does. Zijin actively supports the development of local infrastructure, culture, education and industries, and provides skills training programs, to help host communities catch up with the pace of modernization and have a better life. This also shows that Zijin is a responsible global company.
Translator: Wei Yalin Reviser: Li Yuanxing Editor-in-Chief: Wang Jie