Zijin Mining to Acquire the Lakkor Tso Lithium Project in Tibet
2022/05/12 5897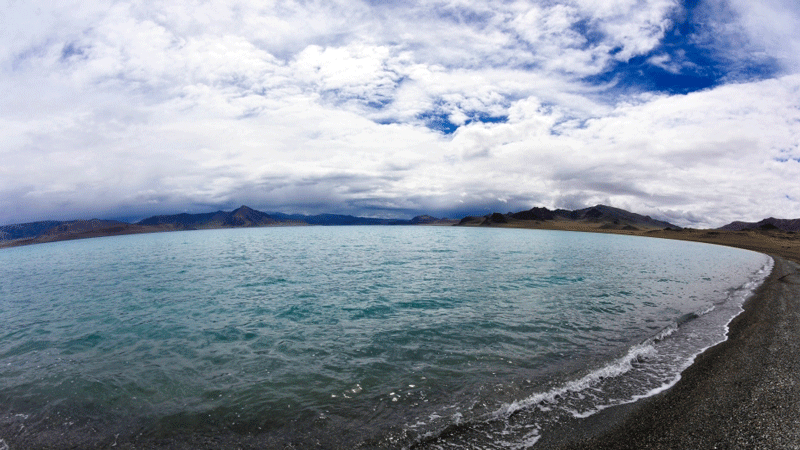 The Lakkor Tso lithium project in Tibet (Photo credit: Chinanews.com)
Zijin News - On April 29th, Zijin Mining announced that it will acquire a 70% interest in the Lakkor Tso Lithium project in Tibet for RMB 4.897 billion.
The Lakkor Tso salar is located in Mami Township, Gerze County, Ngari, Tibet. The proposed deal represents another breakthrough Zijin has made in the acquisition of lithium projects, after its takeover of the Tres Quebradas salar project in Argentina.
Lakkor Tso is one of the few large-scale, high-quality lithium salar deposits in China, with an average lithium ion concentration of 270 mg/L. It has 2.14 million tonnes of lithium carbonate equivalent, ranking among the top 5 in China and the top 20 in the world in terms of resources. As lithium is contained in the water of the salar, its resources can be considered reserves.
The project has huge amounts of recoverable resources, with a low magnesium-to-lithium ratio and high resource quality. In addition to lithium, other minerals in the salar, such as boron, potassium, halite, magnesium salt, rubidium and cesium, are available for comprehensive use.
Meanwhile, the rich water resources near the salar, in particular rivers and other sources of surface water, can meet the project's needs for industrial and domestic water.
A 2016 development and utilization plan of the project set its the production capacity at 10,000 tonnes of lithium carbonate per annum. After conducting site visits and technical research and experiments, external experts and Zijin Mining's in-house technical team agreed that the capacity could be further expanded, and the original process could be replaced with a more environmentally friendly and cost-effective technique - absorption and membrane separation.
As a result, the project's Phase 1 may produce up to 20,000 tonnes of lithium carbonate per annum, and its combined output will grow to 50,000 upon the commissioning of its Phase 2. With the new approach proposed, the project will be able to generate more economic benefits, and could become one of the biggest lithium producers among lithium salar projects in China.
Zijin Mining has adopted a strategy of tapping into renewable energy and advanced materials, especially lithium, a metal vital to the transition to clean energy. Soon after the group acquired the world-class, high-grade Tres Quebradas project in Argentina, project construction commenced. Zijin is also engaged in the joint exploration of hard-rock lithium in the DRC.
To meet market demand for battery minerals, Zijin Mining has decided to acquire the Lakkor Tso project, which will add new strategic mineral resources to its asset base. After the acquisition, Zijin Mining will own over 9 million tonnes of lithium carbonate resources, and is likely to produce over 50,000 tonnes of lithium carbonate per annum by 2025.
Zijin Mining specializes in the development of non-ferrous metals such as gold, copper, and zinc, and has built its competitiveness and influence in the industry. In particular, it has a strong competitive edge in hydrometallurgy. Building on its expertise in mine development, chemicals, metallurgy, and environmental protection, the group founded its Research Institute of Renewable Energy and Advanced Materials, which is staffed by technical experts and experienced researchers.
Mature techniques are available for the development of the Lakkor Tso salar, making it possible for the project to enter production within a relatively short period of time. Furthermore, the project has the potential for production capacity expansion and process optimization.
Zijin Mining has developed a diversified asset portfolio covering copper, gold, and zinc, as well as lithium carbonate, enabling it to withstand risks caused by fluctuations in metal prices effectively and enhancing its profitability.