Lakkor Resources Completes First Onboarding Program for Local Employees at Fuzhou University
2023/06/27 2530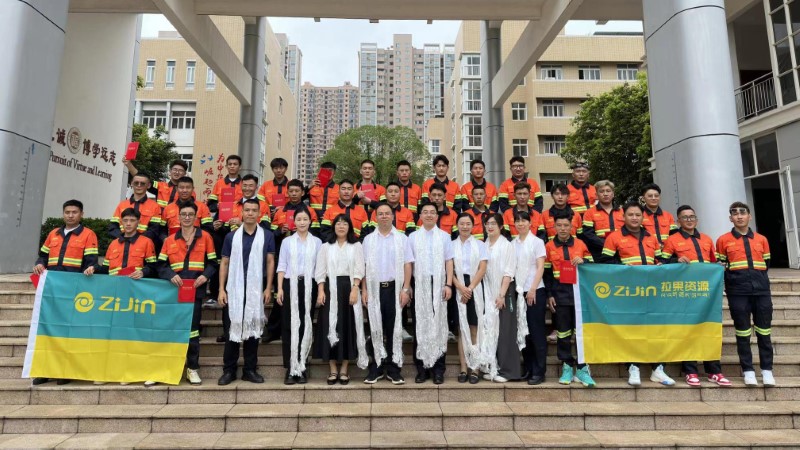 On June 15, the first mining training program for new employees of Lakkor Resources, operator of Zijin Mining's Lakkor Tso Lithium Project in Tibet, concluded at the Zijin School of Geology and Mining, Fuzhou University. A ceremony was held to celebrate the graduation of the 29 trainees from the Ngari prefecture of Tibet.
Jointly organized by the Gerze County Government and Lakkor Resources, the program was held for 3 months for the 29 trainees at the Zijin School's campus in Shanghang, Fujian. The new recruits learned 15 courses on subjects ranging from mineral processing to chemical engineering. They were also trained on Zijin's corporate culture, professionalism and code of conduct, safety, and Zijin's ESG management.
Trainee Awang Rodan spoke on behalf of all the participants at the ceremony. He said he has benefited a great deal from the training in the past three months. Committing to putting his newfound knowledge and expertise to good use, he said he will play his part in the development of the Lakkor Tso lithium project, helping make his beloved hometown a more beautiful and prosperous place.
The Lakkor Tso Salar has approximately 2.16 million tonnes of lithium carbonate equivalent(LCE) resources. Phase I of the project, with a production capacity of 20,000 tonnes of lithium hydroxide per annum, is expected to be built and begin production by the end of 2023.
Translator: Vivian Jian Reviser: Li Yuanxing Editor-in-Chief: Wang Jie